Journey started way back in 1957 for Azad, and today the Group has over six decades of heritage crossing many milestones of useful and meaningful experiences. Azad 4x4, a group company of the Azad Group, focussing purely on Customisation and Modification of 4x4 and related vehicles.

Azad Group plants are located at Delhi - Jaipur & Bangalore, which are equipped with the latest technologies, infrastructure and skilled professionals for delivering high quality range of Buses, Coaches and Special Purpose Vehicles. Azad believes it has the freedom to conquer new heights and strive for new goals, in short TRULY GLOBAL.

Azad 4x4 specializes in customisation and modification for Mahindra Thar, Maruti Gypsy, Renault Duster, and now pickups like Isuzu D-Max Vcross, Tata Xenon and Mahindra Scorpio Getaway.

Azad 4x4 has customized 400+ Mahindra Thars, 1500+ Maruti Gypsys and many other Cars-Jeeps-Vans etc and also offers a wide range of accessories for such vehicles. With its professionally set up manufacturing plant in Delhi (NCR) and its perpetual effort to serve the best to the customer, it aspires to be the market leader in 4x4 customisation and modification.

Mahindra Thar
Azad 4x4 throws a challenge to customers. Handover your jeep to our auto-cosmeticians and allow them to work on it with the latest technologies and accessories at our sprawling makeup area. Your possession after the makeover will mesmerize you. Your Mahindra Thar is destined to look smart, sturdy with a simple but elegant look, after it has visited our studio. "Fashion may be a form of ugliness, so intolerable that it changes every six month. But something's in life, DON'T need to be changed. For example : Habits, Wife, Style, Cars-Jeeps-Vans. These things only need a bit of denting, painting and restoration. Check our latest range of Hardtop solutions for Thar in Metal as well as Fibre and also look out for latest interior and exterior accessories.

Isuzu Dmax Vcross
Given the vehicle performance, off-roading capability and comforts, Isuzu Dmax Vcross is bound to set in the trend for High-end Pick-up truck market in India, which otherwise is a great success in other South east Asian countries. We herewith are introducing Custom Body kits for Isuzu Dmax Vcross, which includes lifestyle as well as Off-roading products.

We have short-listed and sourced wide range of Isuzu parts, which we feel will do well in Indian market. Categorized as :

Lifestyle Products : Canopies, Lid Boxes, Shutter Roller lids, Roll bars / Style bars, Bumper guards, Foot-steps, Bedliners, Fenders, Door claddings etc.

Off-roading products : Off-roading Bumpers, Shockers, High Lift Kits, Snorkels, Tow bars etc.

Small Accessories : Chrome add-ons, Drl, Door & Bonnet visors, Rear camera, Cross bars, Decals and Logos etc.

High Lift Kits and Shockers : 6" and 2" High lift with Shockers.

If the Wife doesn't feel fancy, take her shopping or even better to a Plastic surgeon to feel good. Next, if your Cars-Jeeps-Vans doesn't feel so fancy, bring her to us. We are the Cars-Jeeps-Vans Plastic Surgeons. Restoring, denting, painting, modifying, customizing, 'grand-dizing' – The Look n Feel is our main forte."

"All good things in life don't have to BELONG to BOND….. JAMES BOND.. With Azad4x4 you can roll SEAN CONNERY, GEORGE LAZENBY, ROGER MOORE, TIMOTHY DALTON AND PIERCE BROSNAN all into one and be THE BOND OF BONDS by Modifying the Looks, Feel and Grandeur of your Cars-Jeeps-Vans and Pick up Trucks and let people "Die Another Day" with The Owners Pride and Neighbour's Envy Look…. (Chuckle Chuckle)."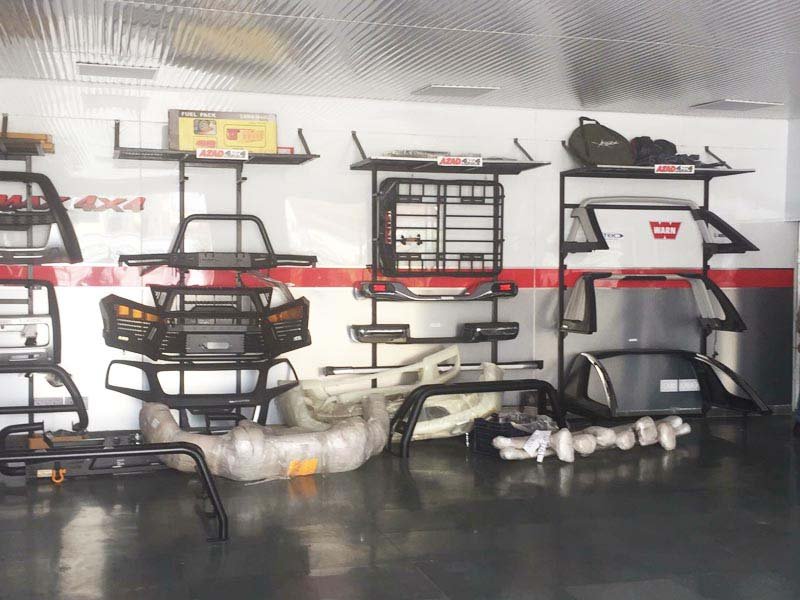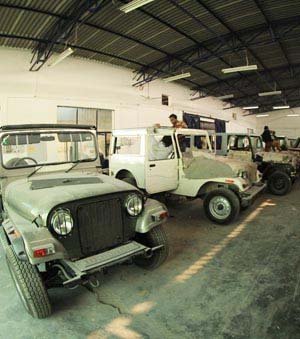 Why Choose Us
No 1 Garage for your Jeep/ Pick-up Trucks Customisation and more
Wide variety for Hardtop Solutions
Professional Customer Services and Technical Support .
Selected High Quality Accessories for your Ride
Passionate Team .
What We do ?
Hard Top Solution for Thar
Fibre Hardtop Kit for Thar
Various 4x4 Accessories
Conversion of Thar into Jeep Wrangler
Gypsy Modifications
We energise Renault Duster
Body Kits for Isuzu D-Max VCrossr
Body kits for your Pick-up Trucks
Canopies for Pick-up Trucks
Conversion of Pick-up Trucks into Monster Trucks
Reconditioning of Old Jeeps